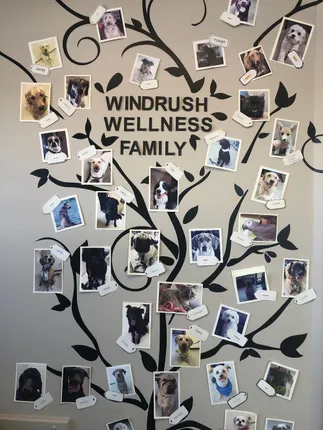 Our Pet Wellness Plans are an easy and convenient way to make sure that your dog or cat receives the yearly preventative care they need without exceeding your budget. On average, a yearly plan can save you an estimated $200 a year!
Wellness Plans are not the same as pet insurance (for emergency illness/injury); instead, they are geared towards preventing disease and maintaining health.
Preventative care not only improves the quality of your pet's life – it will add years to it!
Easy monthly payments allow you to say "YES" to optimal health care!


What does Windrush's Wellness plan offer?
Our wellness plans include your pet's annual examination and vet-recommended vaccines, early disease detection diagnostics such as heartworm/tick testing, intestinal parasite fecal screening and organ function monitoring bloodwork. Enjoy the benefits of unlimited nail trims, personally tailoured parasite prevention products as well as two additional examinations covered by your pet's plan.
Our plans can be custom-tailored to your individual pet's needs.
Does your pet require frequent anal gland expressions or additional blood work monitoring for specific medications? We can make a plan that reflects those additional needs.
Wanting to get your puppy or kitten spayed or neutered? This too can be incorporated and added into your plan.
Contact us to discuss the wellness plan that's right for your pet!
---
Frequently Asked Questions
Why would I want my pet on a Wellness Plan?
Wellness Plans are designed to provide preventive care for your pet at affordable plans. This means we can prevent disease with vaccinations and catch potential illnesses early through physical exams and diagnostics, allowing us to treat them right away rather than waiting until there are clinical signs, pain, or a poor prognosis. The earlier we identify illness, the more effective our treatment is.
Do I have to pay monthly?
Monthly payments are a convenient option we offer, but you are welcome to arrange payments that best suit you (quarterly, bi-annually, or payment in full).
What forms of payment are accepted?
Payments can be made by a pre-authorized Visa and Mastercard.
What date are payments processed?
All plans are processed automatically on the 1st of every month by our online webstore.
What if I miss a payment?
If there is a failed payment, we ask that you call us immediately with new banking information. If consecutive payments are missed, we reserve the right to cancel the plan and calculate your balance owing based on services used.
I have multiple pets. Is there a discount?
In order to be able to keep our plans affordable, there are no multi-pet discounts on the cost of the plans.
What if I have to cancel the plan?
We understand that things can happen. If your pet passes away, you are moving, or you opt to cancel the plan for any other reason, you have two options available:
If you have not yet used any services on the plan, you will be refunded 100%, minus the administration fee which is non-refundable.
If you have used one or more services, the regular price of those services used will be totaled and you will be responsible for the difference of the services used vs. amount paid or the total amount of the remaining monthly payments (whichever is less).
Are the Wellness Plans the same as pet insurance?
Pet insurance covers a percentage of medical veterinary visit and is provided by a third party such as PetsPlusUs or PetSecure. Pet insurance is used for emergencies, unexpected illnesses, or accidents such as ear infections, chocolate toxicity, etc.
Wellness plans are designed for preventative services such a regular vaccines and early-detection blood screening. They are used to help keep your pet(s) healthy and catch disease or illness early (before they become emergencies!)